About Us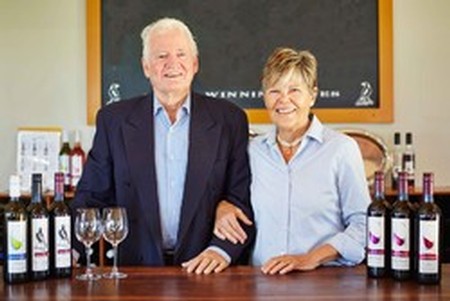 Gartelmann Wines in the Hunter Valley was founded by Jan and Jorg Gartelmann in 1996. Feeling the need for a "tree Change" Jorg announced to wife Jan his idea of buying a vineyard in the Hunter Valley.

Jorg's philosophy whilst running his computer business had always been, 'if you don't know a computer language, then get a specialist to help'. That is exactly what he did. He employed an expert to help him find the best vineyard and an expert winemaker. The vineyard was run down and needed a lot of tender loving care. There wasn't a house or a shed on the block so undeterred Jan and Jorg bought a tent and slept there at week-ends until a shed was built some 12 months later.

Progress was a bit slow until Jorg and Jan bought an adjoining property and moved up to the Hunter in January 1998. By January 1999 they had built a Cellar Door and really got down to business.

Since those early days Jan and Jorg have expanded the business and are now winning gold medals, trophies and other accolades for their wines. They now select the best fruit from a range of regional growers in order to make their wines.

They have been partners in the Lovedale Long Lunch group since 1999 and recently added a thriving Café to their repertoire, operated by Chef Matt Dillow.