2014 Gartelmann 'Mudgee' Petit Verdot
Mudgee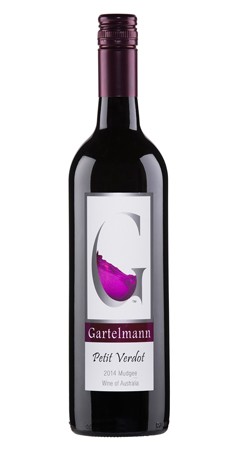 Region: Rylstone, Mudgee NSW
Terroir: Our regular vineyard in Rylstone was damaged by black frost, and we had to look elsewhere. We got a small tonnage from Mudgee, reddish sandy loam clay with some ironstone. The volume was too small, so we supplemented it with 15% Clare Cabernet Sauvignon.
Maturation: Kept in New Missouri oak puncheons, and a mix of one to three year old French & American oak puncheons and hogsheads for 14 months.
Tasting Notes Attracting you straight away with its deep inky burgundy colour. The nose then lures you further; very spicy and peppery, with dusty blackcurrants and mulberry coulis. Inhale deeply and gently exhale, you'll see hints of violets and chocolate and cassis. Take a sip… the palate is dense and rich, with soft, approachable tannins. Let it slide down the throat with its sweet blackcurrant finish, touch of aniseed and fennel. A deliciously lingering finish to bring you back again and again. Go the next glass.
Food matching: Think about it with slow cooked beef, spinach lasagne, roasted Mediterranean vegetables with
hummus, a good Emmental with dark bread
Cellaring: Drink from 2017, great from 2019, cellar max to 2024
Vintage: October 2013 to February 2014 had way below average rainfalls, with Min daily temperatures below 10 year average, and max temperatures slightly above 10 year average. 27 mm on 1st March was way past our harvest date, with next rain on 27th March. Our traditional vineyard block for the Petit Verdot got damage by black frost, and we had to get
15% Cabernet Sauvignon from Clare to make up the volume.
Reviews & Awards:
93 Points. "If you haven't ventured inthe world of petit verdot then this is an excellent introduction. If you like spicy foods, then try it with this variety, it's the perfect match." Gladstone Observer, Peter Chapman, Aug 2017
92 Points. "Satsuma plum. Redcurrant. Violet. Wood spice. This loads up with fruit and delivers it promptly and well, curls of tannin and sweet oak almost entirely consumed in the rush. Drink by 2023" Winecompanion, Oct 2016
"This zingy red comes from grapes grown at 530 metres above sea level on a small 14-year-old vineyard in Mudgee's Rylstone sub-district.With 13.2 per cent alcohol, it is bright garnet and has scents of violets and bay leaves.The front palate shows lifted blackberry flavour, the middle palate introduces plum, licorice, spice and vanillin oak characters and minty tannins show at the finish... Petit verdot, "the little green one" for its late-ripening properties, is mainly seen in its native France as a blending agent adding aromatics and spice in many of the great red blends of Bordeaux." Newcastle Herald, John Lewis, Sept 2017