Lovedale Long Lunch
18th - 19th May - Lovedale Long Lunch 2019
Here at Gartelmann Wines we are collaborating with the talented Matt Dillow and the Deck Café Lovedale once again for the 26th anniversary of the Lovedale Long Lunch. Our menu is set, our entertainment is booked and as usual our wines will be chilled ready to be enjoyed in the great outdoors.
What makes our amazing food and wine event better than most? Amazing wines and gourmet delights all set in the beautiful location here in Lovedale. At Gartelmann Wines you will sit amongst nature on our beautiful property feeling more like a gourmet picnic than a wine and food event. To top it all off you will be able to get your groove on with an amazing array of live entertainment.
Don't arrive intoxicated or you wont be able to get in
Ladies, you might want to leave the heels at home. It's a walk from the parking area and we have nice soft grass.
Make sure you are at your favorite venue (Gartelmann) by 3pm as you won't get into any venue after 3pm
Saturday - Tickets are only available online, there will be NO tickets available on the day.
Sunday - Tickets WILL be available at the gate on the day.
Only SEALED bottles of water are allowed in. Keep your empty bottles as we have plenty of FREE water on the day.
So, grab your fellow foodie friends and head to Gartelmann Wines for the 26th Lovedale Long Lunch! Start planning your weekend away into the realm of one of the most unique locations in Lovedale!

2018 menu below, keep watching for the 2019 menu
Main Meal
Thai snapper and blue swimmer crab cakes with Asian salad and chilli plum dipping sauce
or
Veal osso bucco with risotto Milanese and gremolata (GF)
Vegetarian and gluten free option
Risotto Milanese with ratatouille and besan battered zucchini flower
Vegan
Ratatouille with besan battered zucchini flower
Dessert
Chocolate, muscat and almond fudge cake with raspberry coulis and vanilla cream
Cheese
Hunter Valley Brie and cheddar cheese plate with Lavosh, water crackers and fig, date and walnut roll
Music Saturday: All Access 80s Music Sunday: All Access 80's
For more information please visit www.lovedalelonglunch.com.au
BOOK NOW
About the bands.......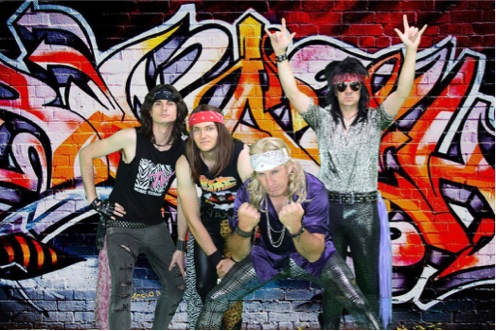 ALL ACCESS 80s is your very own VIP pass to the ultimate 80s rock experience.
The biggest hair, the tightest pants, the wildest party outside the sunset strip.
From hard hitting rock to power ballads, all your 80s hair rock favourites in one kick-ass show.
If you love the classic 80s rock bands, from Bon Jovi, Poison and Def Leppard through to Motley Crue, Guns N' Roses and Journey (and many more), boy do we have the show for you!
The All Access 80s boys have the looks, the moves and the attitude to match, without the substance abuse.