2016 Gartelmann Benjamin Semillon
Hunter Valley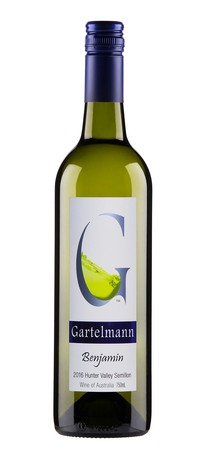 For many years the Benjamin Semillon has been one of our most celebrated and awarded wines. The 2015 Benjamin Semillon is no exception. Made in a traditional Hunter style from only clean, flavor ripe free running juice, this wine was cold fermented in stainless steel capturing the elegance, finesse and structure that Hunter Valley Semillon is famous for.
Cellaring: Drink now or cellar until 2021 for best drinking, or until 2026 for maximum ageing
Food Matching: A great wine to serve with simple flavored foods, particularly white fleshed fish.

Reviews & Awards:
Gold Medal, Cairns Wine Show 2016
Gold Medal, NSW Small Winemakers Wine Show 2016
91 Points. "The aroma is restrained and delicate, the palate fresh and soft, with a good balance between accessibility and ageworthy restraint. It drinks well already. Very good." Huon Hooke, 2016
"An array of freshly cut grass, lemon peel and honeysuckle before a beautifully balanced palate with lovely waxy texture and depth of flavour before finishing dry, long and with no shortage of acid to see it develop over the next decade. Rating: Fabulous." Hobart Mercury, Graeme Phillips, Feb 2017
90 Points. "Herb and citrus rendition of this Hunter Valley stalwart. There's a little something sweeter in the background too. Energetic citrus on the onset of the wine, the requisite acid of this early picked variety that will serve it well in years to come. Calms down a little, fading gently. Really about the citrus. A little textural ebb and flow across the back. Enjoyable." Vinsomniac, 2017
90 Points. "I note the website says drink now or cellar to 2021 or for maximum aging 2026. On tasting (pre reading the website) I was thinking great potential put it away for three to five years, that is I disagree with the drink now statement, to buy and put away $25 is cheap, 90 points now but several more to come." The Key Report, Tony Keys, 2017
91 Points. "Lanolin, marzipan, lemony scents. Pretty and almost floral-sweet, but just pegged back by a herbal note. Fine and frisky to taste, concentrated yet lifted with fine, oyster shell acidity..." Winefront, Campbell Mattinson 2016
91 Points. "Limes drive this Semillon which comes off vines dating back to World War II. Fresh and vibrant fruit fills the mouth well with cleansing acidity cutting a neat path. A pithy factor hangs on by its claws. Good drinking all round really - this has fish & chips written all over it. Drink now to ten years." QWine. Sept 2016
"The palate displays the crisp straw undertones typical of the variety and an assertive acid backbone. It promises some longevity. The lingering lively richness of primary fruit and 11.8% Alc, entice to yet another glass. This very enjoyable tightly wound fruit bomb can be savoured now but will also reward some cellaring." The Grape Hunter, Gilbert Labour, Sept 2016.
"I don't drink or cellar nearly enough Hunter Valley semillon. This release from the 2016 vintage from Gartelmann is quite attractive. Its nose is bright with lemon, minerals and a lemon rind character. The palate is light to medium bodied, with good length and balance framed with high acidity. I enjoyed this. Rating: Good to Very Good." Grape Observer, Sean Mitchell, Sept 2016
"For many years, the Benjamin semillon has been a celebrated and awarded wine. The 2016 Benjamin semillon is no exception. Made in a traditional Hunter style from only clean, flavoursome, free-running juice, this wine was cold fermented in stainless steel, capturing the elegance, finesse and structure that Hunter Valley semillon is famous for. The Benjamin semillon 2016 can be drunk now, cellared until 2021 for best drinking, or until 2026 for maximum ageing. Foods that go well with the the Benjamin semillon 2016 include simple-flavoured foods, particularly white-fleshed fish." My Business Magazine, Oct 2016