2016 Gartelmann 'Jessica' Verdelho
Hunter Valley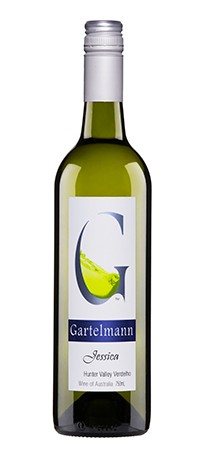 The colour is pale, green straw. The nose has hints of ripe melon, grapefruit and musk with a citrus blossom lift. The palate is textured with layers of white peach and delicate Muscat characters. Lower residual sugars allow the natural fruit sweetness to come through to highlight the rich tropical fruit characters.
Cellaring: Drink now as a young wine or until late 2017.
Food Matching: Enjoy with seafood, spicy food or just on its own.

Awards & Reviews
"Fruity nose, with natural sweetness coming to the fore (very little residual sugar). Crystalised ginger, tropical green melon, verbena and dewy grass. The palate has the expected Hunter zip, before Starfruit tropical flavours moosh with lemon grass and rocket/arugula like peppery notes. There's some heft to this young lass, weighing in at 13.2% alcohol. As such, she'll need an equally weighty dinner companion. Throw it at a Thai Green Chicken curry, with just enough spice for balance.": Vinonotebook, April 2017
"The verdelho offers a nice alternative to sauvignon blanc that goes well with seafood and spicy food, while the chardonnay
is a much richer style with well-balanced oak." Drinks Trade Magazine, Apr 2017
"For me a passionfruit nose, unbelievably fresh clean, and zippy in the mouth absolutely delightful, gentle across the palate but enough points of pleasure to make it a cut above just a 'glass of white' 94 points and good value at $22." The Key Report, Tony Keys
"Imagine combining slices of ripe melon, citrus fruit and then add a hint of musk. That's waht flows from this flavoursome fellow from the Hunter Valley. A most enjoyable drop. Rating: 92/100. Food: Seadfood." Northern Star, Peter Chapman, Apr 2017
"A generous nose with top notes of banana and guava, the palate has a plush and rounded mouthfeel on entry with a honeysuckle aspect to the more tropical fruits. Acidity takes hold on the mid palate with a citrus edge that both contrasts the richer notes and provides a considerably drying texture to finish. Best over the shorter term." The Wine Reviewer, Mar 2017
"Verdelho, this traditional variety from Madeira, seems to have found traction in the Hunter Valley. This example from Gartelmann depicts all the varietal attributes of the Australian version of the grape. Zingy acid, floral overtones with zesty citrus / apricot fruit primacy are balanced by an underlay of residual sweetness. A very gluggable, pleasantly refreshing wine from winemaker Liz Jackson which I enjoyed with steamed dimsims. Drink now to 3 years." The Grape Hunter, Gilbert Labour, Mar 2017.
"Juicy. Fruity. Tutti-fruity. You get the idea. It comes at you at a rate of knots, its assorted fruit flavours up-front and eager to please. Easy to understand, so to speak, and easy to enjoy as a result." Winefront, Campbell Mattinson, 2017
"...Juicy and fruity, but not too fruity, with some banana and tropical fruits, a subtle undercurrent of grassiness, fresh acidity and a finish that's modest and (pleasantly) green. It's a nice easy going glass of white." Winefront, Gary Walsh, 2016
"Good refreshment here. A spicy take on Verdelho. Rather than being super tropical fruit driven style that this variety can be, that fruit has been tempered by a ginger spice drive which hangs long. Passion fruit, melon, pineapple husk are all still thereabouts. A good go-to with seafood and a sunset I say. Drink now." QWine, Feb 2017