2016 Gartelmann 'Stephanie' Pinot Gris
Orange Region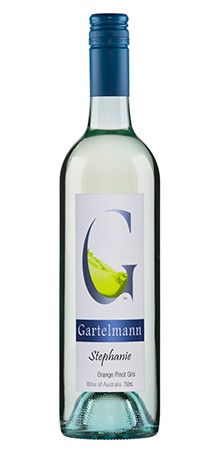 The wine is made from Pinot Gris sourced from the cool climate of Orange NSW. A fresh and fun wine with hints of pear and melon. A refreshing wine that is easy drinking. Ideal with spicy food or just on its own.
Food Matching: Seafoods or spicy food like Thai green chicken curry. Serve chilled.
Cellar: Drink now as a young wine or by the end of 2017.
Reviews & Awards:
"This wine is made from fruit sourced from the cool climate of Orange NSW. The result is a fresh easy drinking wine with hints of matched with seafood or spicy food such as Thai green curry." Have a Go News, Frank Smith, Nov 2016
"...Initially fragrant with undertones of talciness, it then delivers a flavour punch reminiscent of Beurre Bosch pears with a hint of dried herbs. There is also a mid palate astringency and crispy tingly acid which, coupled with the well-camouflaged 13.1% Alc, lead to a lengthy fresh fruit-driven finish..." The Grape Hunter, Gilbert Labour, July 2016

"Fragrance of pretty flowers, green pear slices, lime pith & bitters citrus. Holds some texture, sour citrus acidity cuts through crisp green apple slices with a pleasant lingering quartzy minerality. Absolutely designed to be drunk now and good for the sounds of summer... more." Vinonotebook, Regan Drew, August 2016
"... tight, with promise, so 90 (points) now but I think by Christmas and over the rest of summer 2017 it will be running at 92 (points)..." The Key Report, Tony Keys, Oct 2016
"...fresh and zesty, with flavours very much in the citrus spectrum. One to enjoy with seafood and Thai cuisine... more." Molong online, John Rozentals 2016
"... It is made with fruit from the Orange region and is a dry wine with pear, apple and melon flavours. Very refreshing and goes down well. It would be paired well with a spicy Asian dish. This wine should be enjoyed now..." Once Upon a Wine, Aug 2016