Epic Food & Wine Battle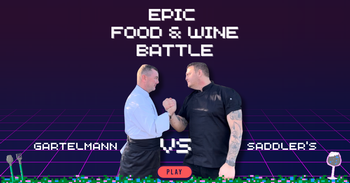 Once again, there will be an "Epic Battle'' of two mighty boutique wineries, 'The Horse' and 'The Magpie' and we need your help to determine the champion! Get ready to witness an exhilarating match between these beloved family-owned establishments, Gartelmann Wines and Saddler's Creek Wines. It will truly be an Epic Food and Wine Battle, as we come together to wrestle it out!
We invite you to join us for a fun-filled evening with delicious dishes and our best wines. Indulge in a magnificent 6-course degustation menu, where each course will be thoughtfully paired with a wine from both wineries. Talented Chefs, Matt Dillow from The Deck Café Lovedale and Jonathan Heath from Saddler's Eats, will be showcasing their culinary skills to tempt and persuade your palates.
Round two, will be held on the deck at Gartelmann Wines. It's here that we'll gather as one big family, enjoying a feast that celebrates the best of the Hunter Valley's food and wine.
This unique experience of two boutique, family-owned destinations, is a celebration of friendship and a passion for great food and wine. Be a part of this unforgettable night and let your voice be heard!
Hurry, as seats for this exclusive event are limited. We can't wait to welcome you to an evening filled with laughter, camaraderie, culinary delights and of course, our finest wines!
Reserve your seat now and get ready to indulge in the best the Hunter Valley has to offer.
When: Saturday 3rd February 2024
Time: 5:30pm arrival
Tickets: $220pp