XMAS Sparkling 6PK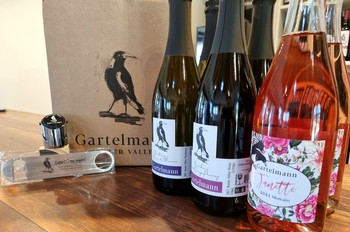 2 x 2021 Gartelmann Brittany's Blanc de Blanc
This "white of white" is based on Chardonnay grapes, giving it the wonderful elements of that variety: apple and honey characters on the nose, complexity on the palate and the ability to be delicious when young, or superb with age.

2 x Gartelmann 2021 Bianka's Sparkling Shiraz
Gartelmann Sparkling Shiraz is our contribution to an iconic Australian wine style. Richly fruited Shiraz is given an extra dimension from secondary fermentation.

2 x Gartelmann 2021 Janette Moscato
A fun fresh and fruity wine that has just enough sweetness for those who are already sweet enough.

1 x Gartelmann Bar Blade + 1 x Gartelmann Champagne Stopper
FREE DELIVERY NATIONWIDE